Close Up Magician Birmingham | Solihull | Wolverhampton | Coventry | All UK Covered 
Big day? Big performance required! Asian Wedding Magician iNFiNiTi promises to have your guests laughing and screaming 'HOW!?' over the drinks reception, during the sit down meal or when evening guests arrive. Make your day amazing and add some Dynamo Style Close Up Magic.

(More information below gallery)
Indian, Pakistani and Bengali Weddings are a big favourite of Asian Wedding Magician iNFiNiTi and he can average between 10 and 20 a year. They are big, brash, unbelievabley impressive, loud, stylish and unforgettable – just like iNFiNiTi's magic. The two are therefore a match-made in heaven.
Quite simply, no wedding is complete without entertainment. What should be the biggest day of the bride and groom's life should also be remembered forever by everyone else involved… and there is no better way of making such event as memorable as hiring an Asian Wedding Magician – especially one that will add to the atmosphere of the occasion with 'feel good' entertainment.
Look no further than iNFiNiTi. Oozing modern flair and style, doing impossible things with cards, coins, mobile phones, wine bottles, glasses and napkins – he's been performing at weddings for ten years – and iNFiNiTi knows exactly how to rock an audience on these special days. Asian Weddings often house hundreds of guests, therefore you need a magician who is fast and effective at getting round the room. iNFiNiTi is experienced with large numbers of people and vows to leave an everlasting impression over the course of 2-3 hours. His magic is suitable for ALL ages and ALL religions.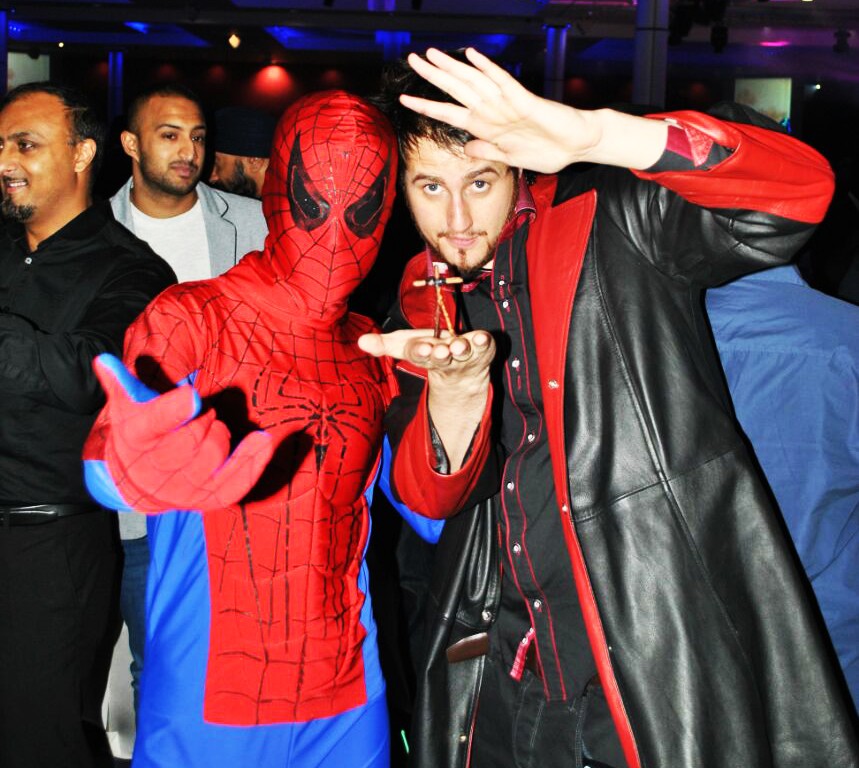 iNFiNiTi poses with Spiderman during an Asian Wedding in Birmingham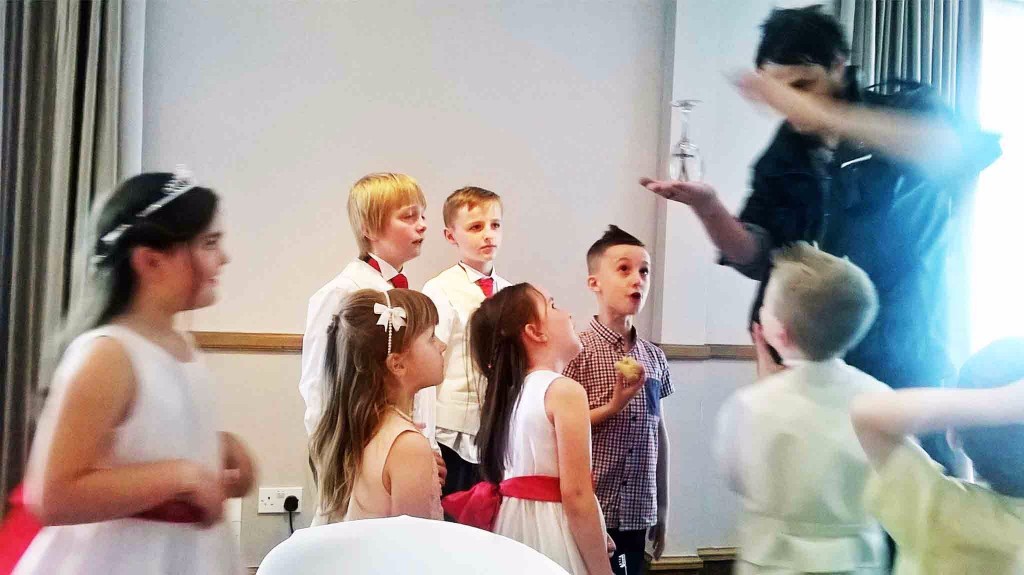 iNFiNiTi entertaining children during a wedding breakfast – magic for ALL ages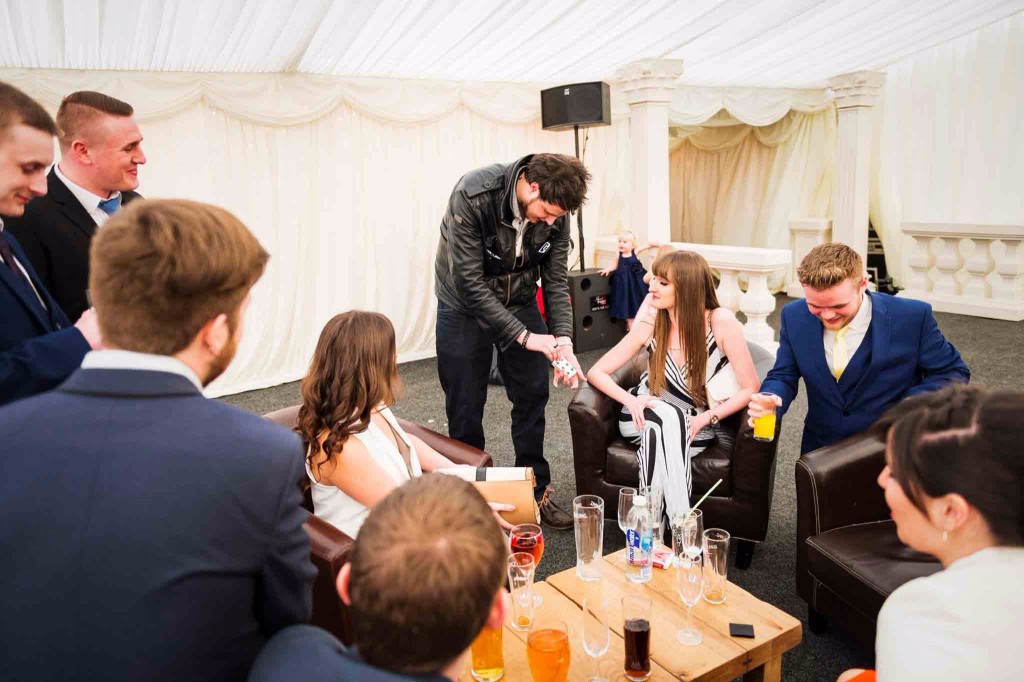 iNFiNiTi mingles with the crowds adding a 'feel good magic factor throughout the room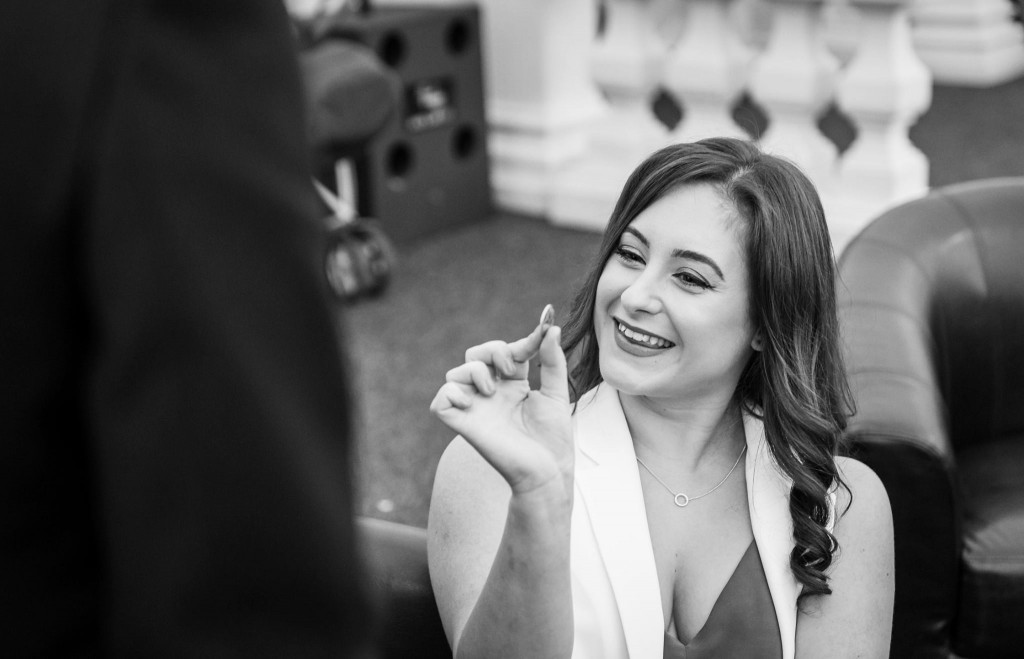 iNFiNiTI gives a female spectator the power to miraculously bend a 10p piece
The best thing about wedding magic is that it takes away that 'awkwardness' between strangers and is the perfect ice breaker, whether the tricks are performed during the waiting around for photographs, drinks reception, afternoon / evening sit down meal or party. iNFiNiTi is there to fit in with your arrangements make your big day EXTRA SPECIAL whenever you need him. He is available to perform at all wedding venues across the UK, from Birmingham to London and iNFiNiTi promises to move from group to group, table to table destroying each and every mind. When he's done, he will destroy them all so more through his repertoire of inexplicable card tricks, coin bending, ice production, phone unlocking, mentalism and fire effects. This is fast, fresh and ultra visual magic – live and close up. Nothing old and cheesy, just…cool…magic. Oh, and the kids will love it just as much as the adults.
Enquire about hiring Asian Wedding Magician iNFiNiTi.
Click
HERE
 for a no obligation quote.
Watch a Video of iNFiNiTi's Tricks Here