Childrens Magician Birmingham & Solihull | Wolverhampton | Coventry | Staffordshire | Worcestershire | Warwickshire | Leicestershire | All UK Covered 
All kids LOVE magic – FACT. And whilst you probably can't afford their TV hero Dynamo, you can still bring wonder to their birthday party in the form of local Childrens Magician iNFiNiTi. He promises to WOW them all with a range of Dynamo style close up magic tricks that have taken him years to master. iNFiNiTi is NOT an old cheesy magician doing tricks that their grandpa does, he is young, FUN, inspirational… and, a bit of a role model for kids across the entire country.

(More information below gallery)
​
iNFiNiTi specialises in performing close up magic for ALL AGES. He averages approximately 20 childrens shows each year, most of which are brilliantly fun birthday parties. Magic is the icing on the cake when it comes to childrens entertainment. Childrens Magician iNFiNiTi is usually booked for 1-2 hours depending on the number of kids. His tricks will include amazing card effects, coin bending, mind reading, hilarious fun with spooky voodoo dolls, string, balloons, cups, balls and MORE. The beauty of iNFiNiTi's shows is that he involves each and every kid – it really feels as if it is they who are performing the tricks – something they will cherish forever. Most shows end with iNFiNiTi teaching the kids a range of really simple but really fun tricks that they can perform themselves for family and friends at school… Awesome!
In addition to birthday parties, iNFiNiTi also puts on magic shows for kids at summer camps, youth centres and drama schools including Round Midnight in Sutton Coldfield. He is also the much loved resident Childrens Magician at Bibsy Bananas Summer School in Birmingham and has also put on shows as far as Rio De Janiero, Brazil where he held magic classes for favela children.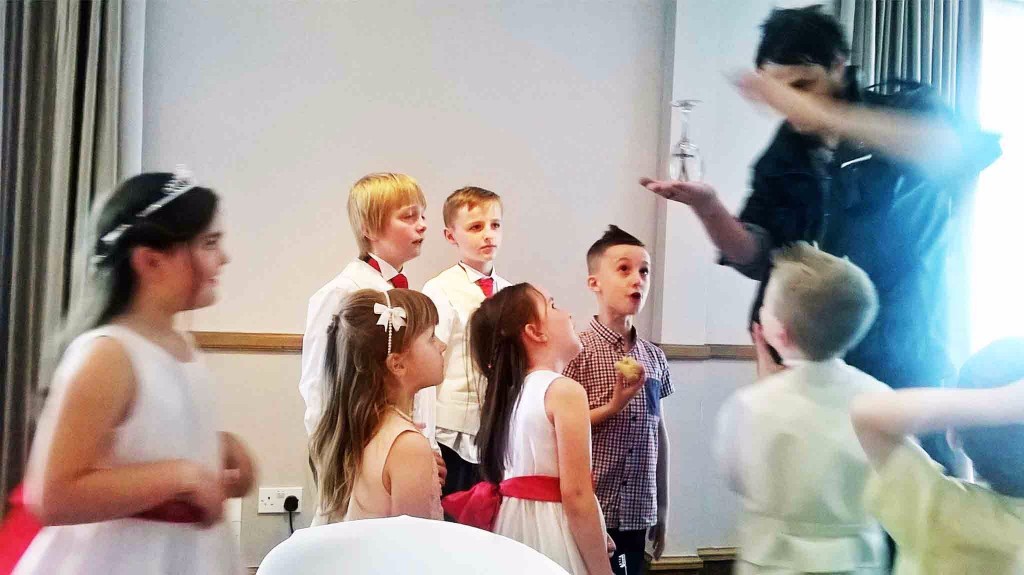 iNFiNiTi entertaining children during a wedding breakfast – magic for ALL ages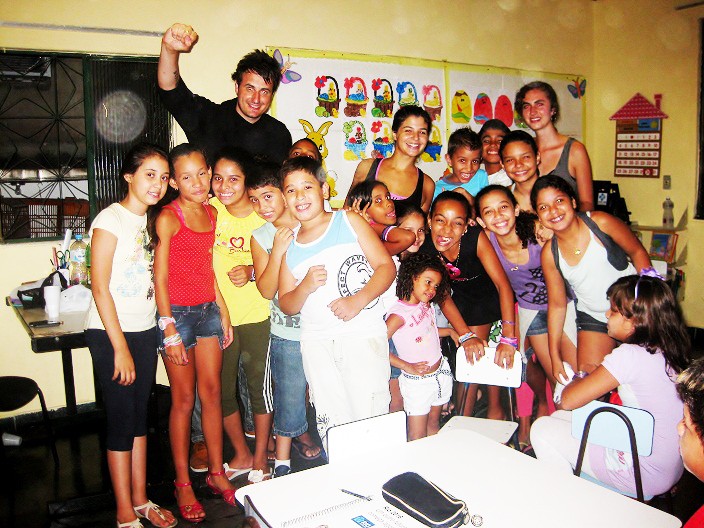 iNFiNiTi posing with the kids of his Magic Class in Brazil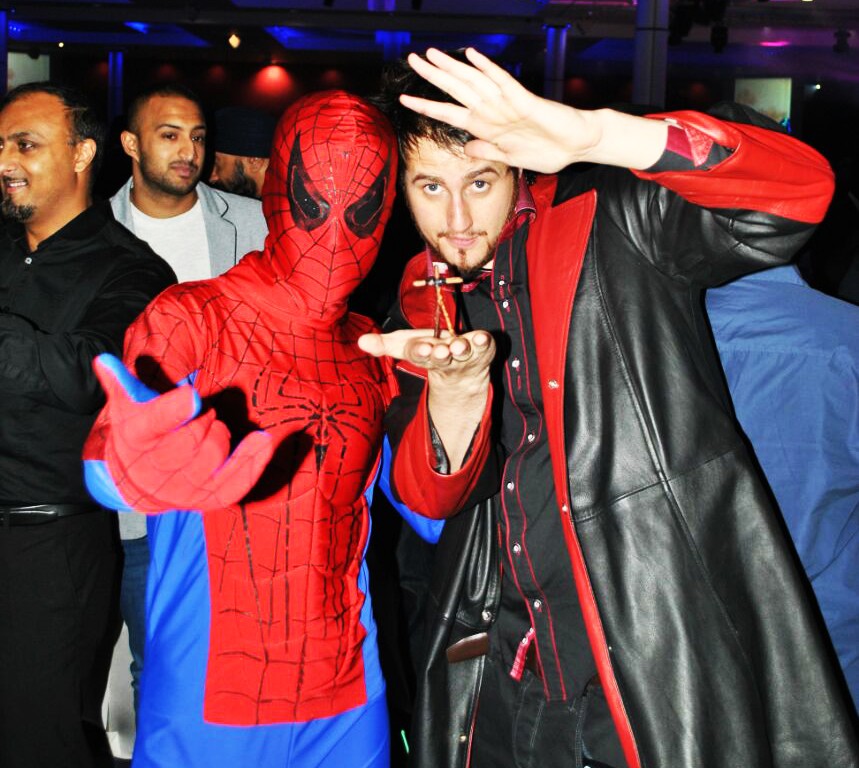 Teaming up with Spiderman at a family birthday party in Birmingham
Get in touch with Childrens Magician iNFiNiTi.
Click
HERE
 for a no obligation quote.
Watch a Video of iNFiNiTi's Tricks Here