Quotes from Famous People: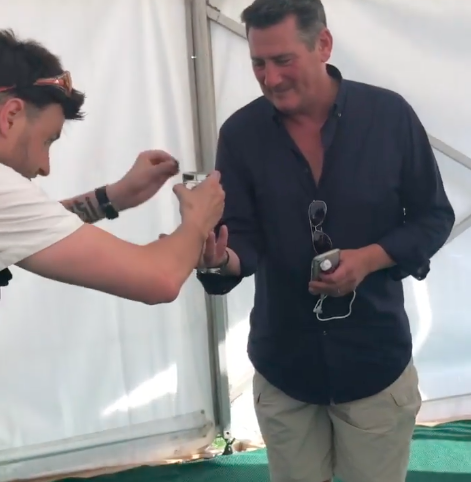 "This Man is Good."
– Tony Hadley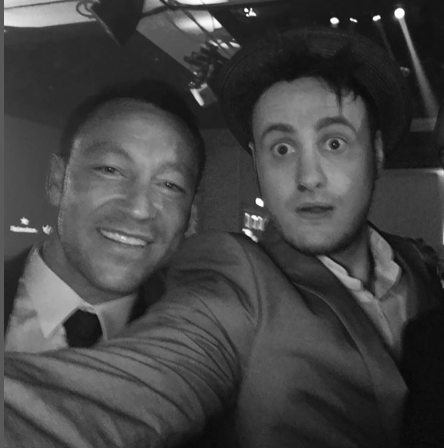 "Can you do magic tricks at our table all night!?"
– John Terry
"I don't know how you read my mind and got John Barnes…"
– Jamie Redknapp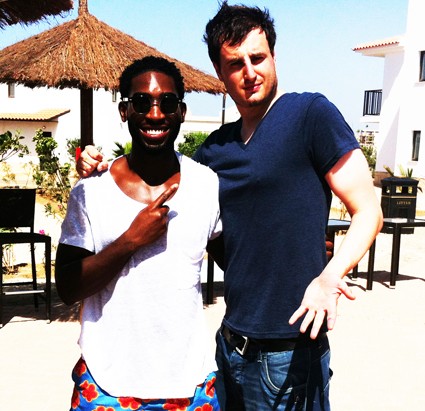 "This guy is sick. Ridiculous."
– Tinie Tempah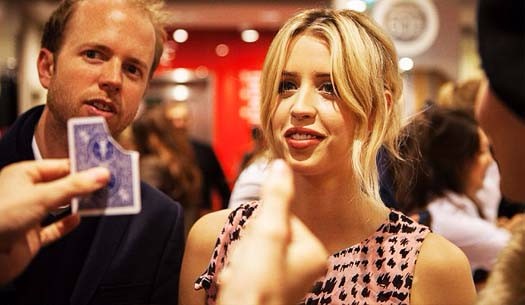 "He swallowed my card and it ended up inside a banana"
– The late Peaches Geldoff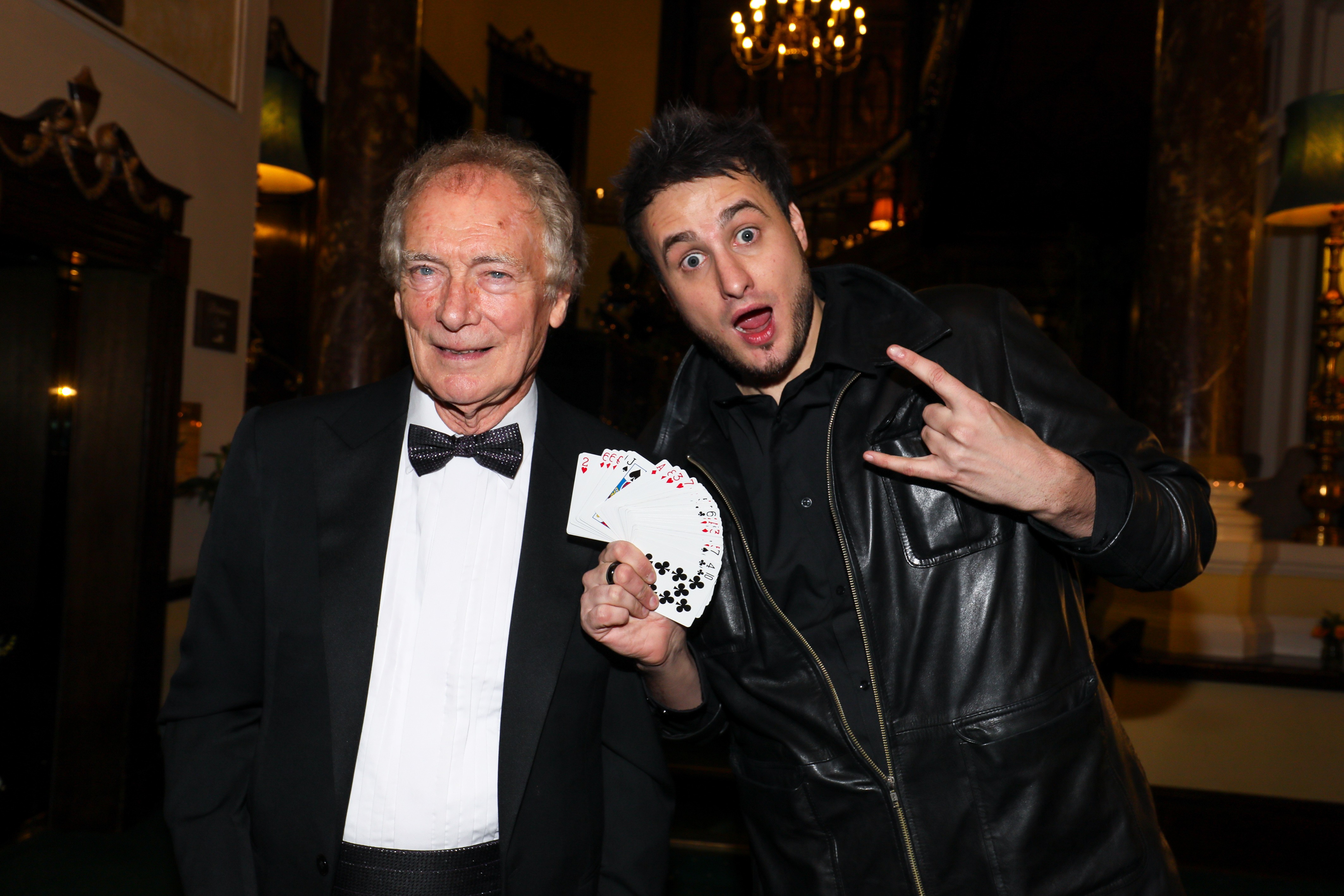 "Thank you for magic my birthday magical"
– Cecil Duckworth OBE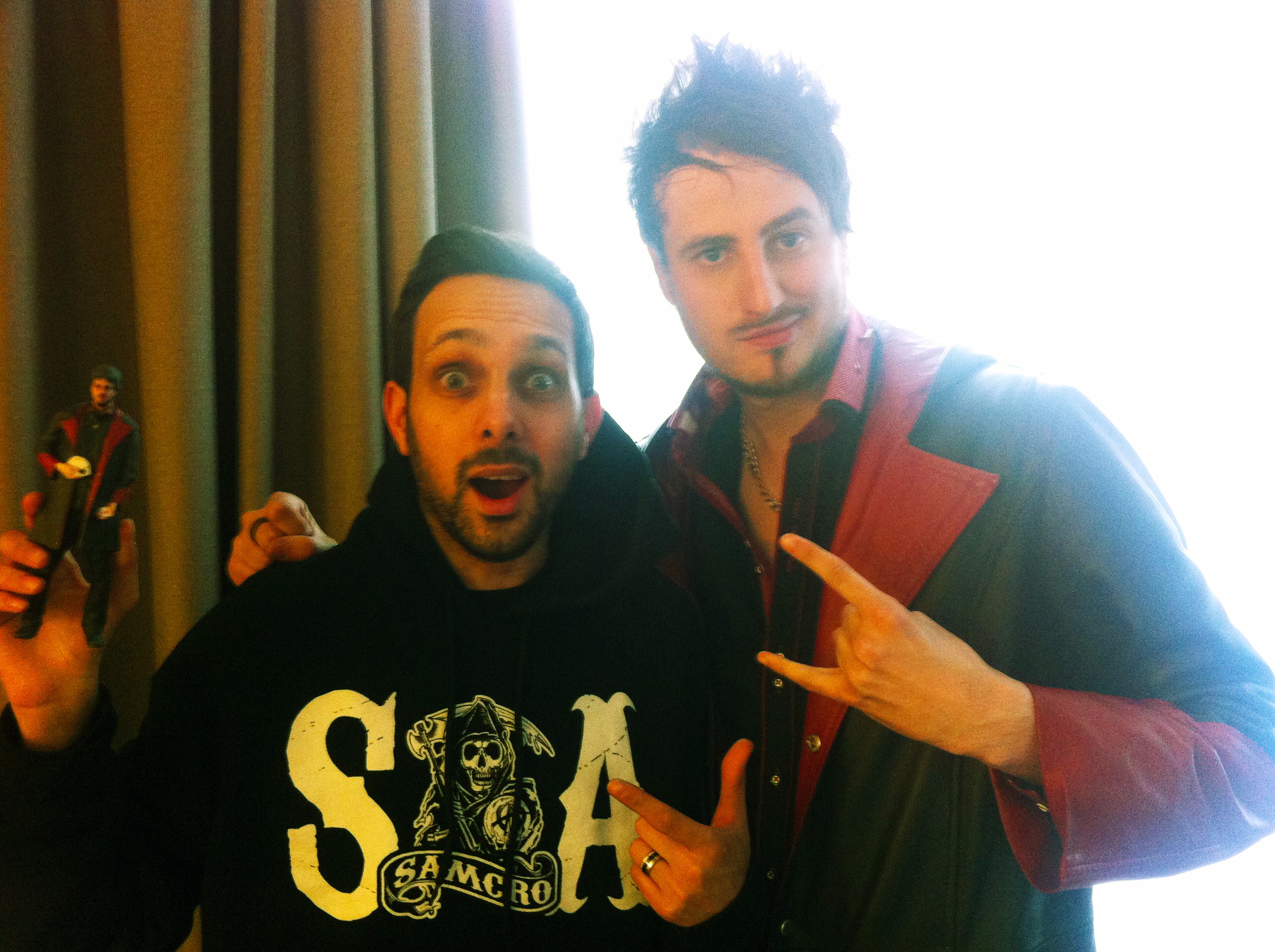 "I can't believe you're shooting fireballs in my hotel room!"
– Dynamo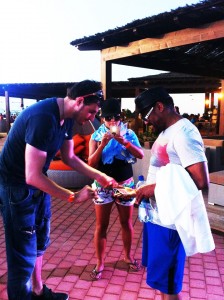 "Unbelievable sleight of hand"
– Apl de App, Black Eyed Peas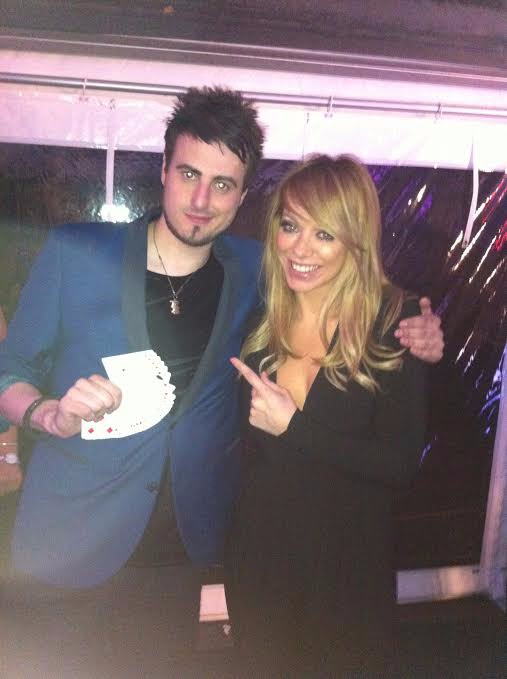 "Please stop scaring me"
– Liz McLarnon, Atomic Kitten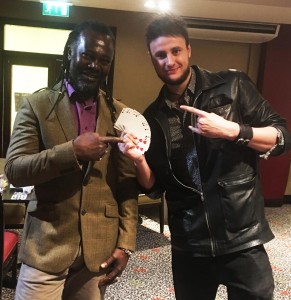 "I don't know how you did it"
 – Levi Roots, Regae Regae Sauce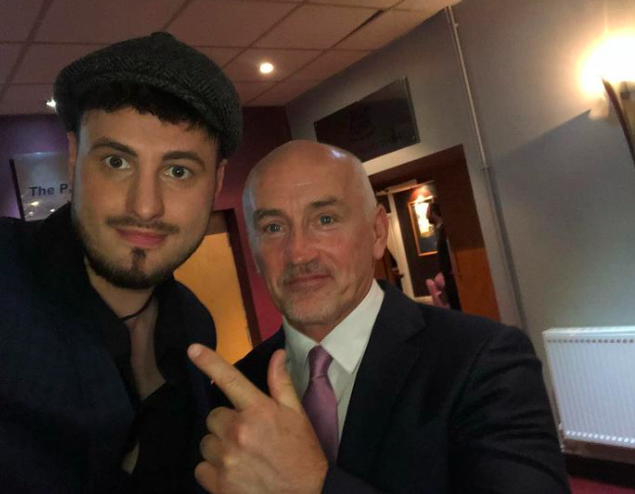 "How did you get a nail up your nose!?"
 – Barry McGuigan, ex Boxer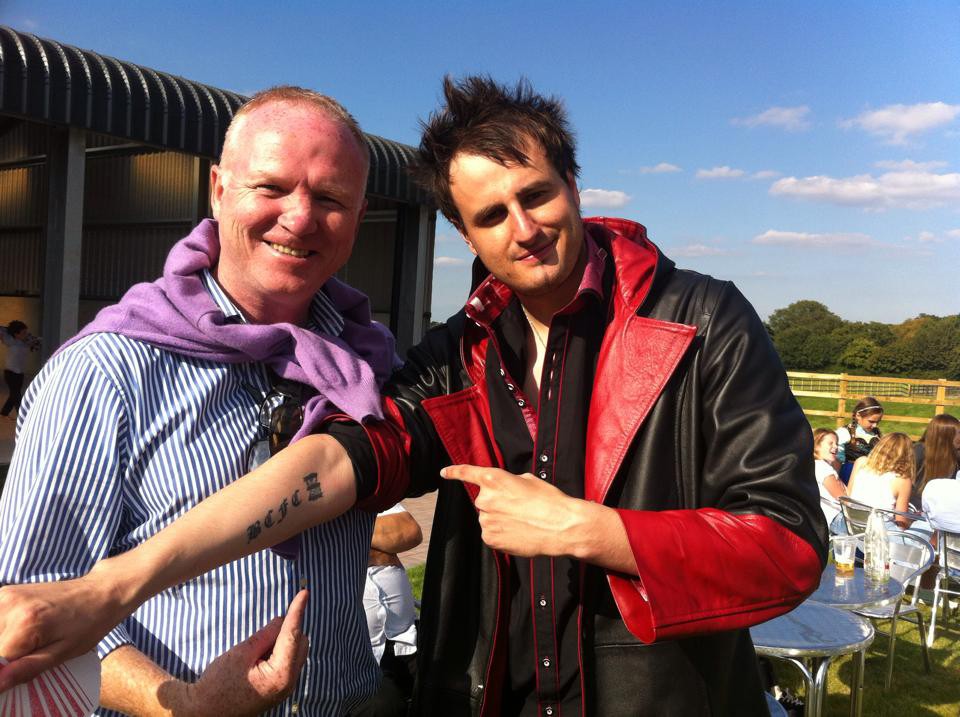 "You are absolutely outsanding, I liked that"
– Alex McLeish, ex Footballer/Manager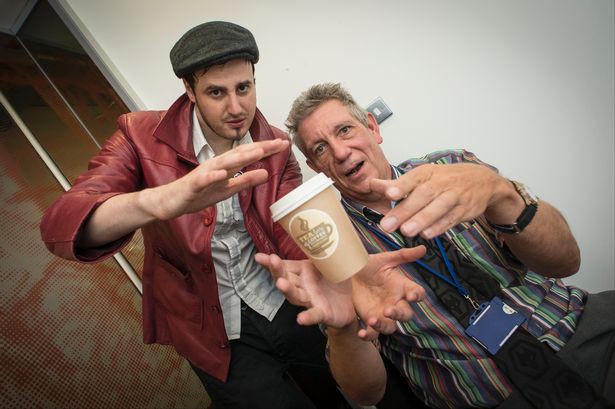 "iNFiNiTi makes magic look sexy!"
– Mike Lockley, Birmingham Mail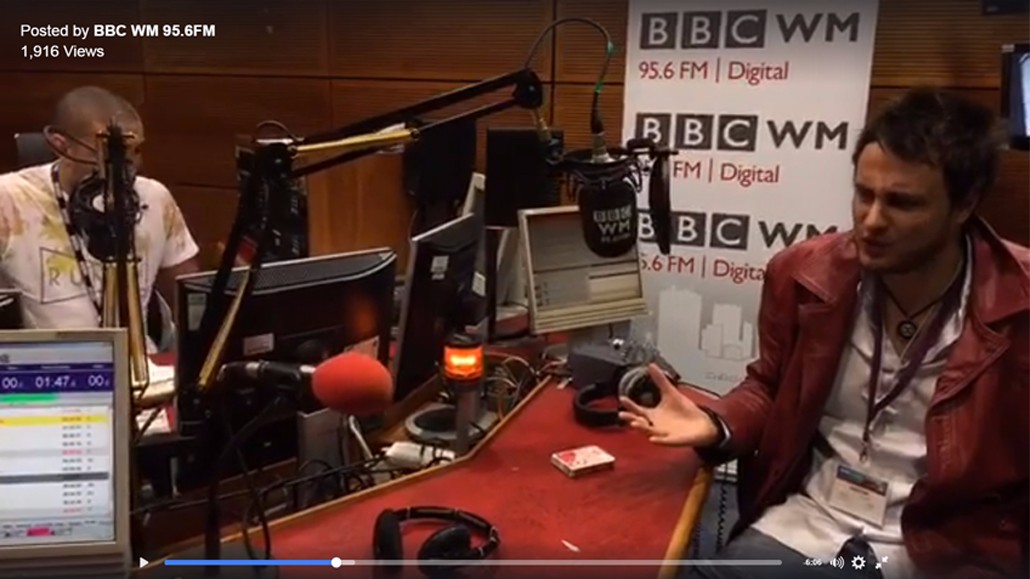 "You are proof we can really do magic on the air!"
– Richie Anderson, BBC Radio DJ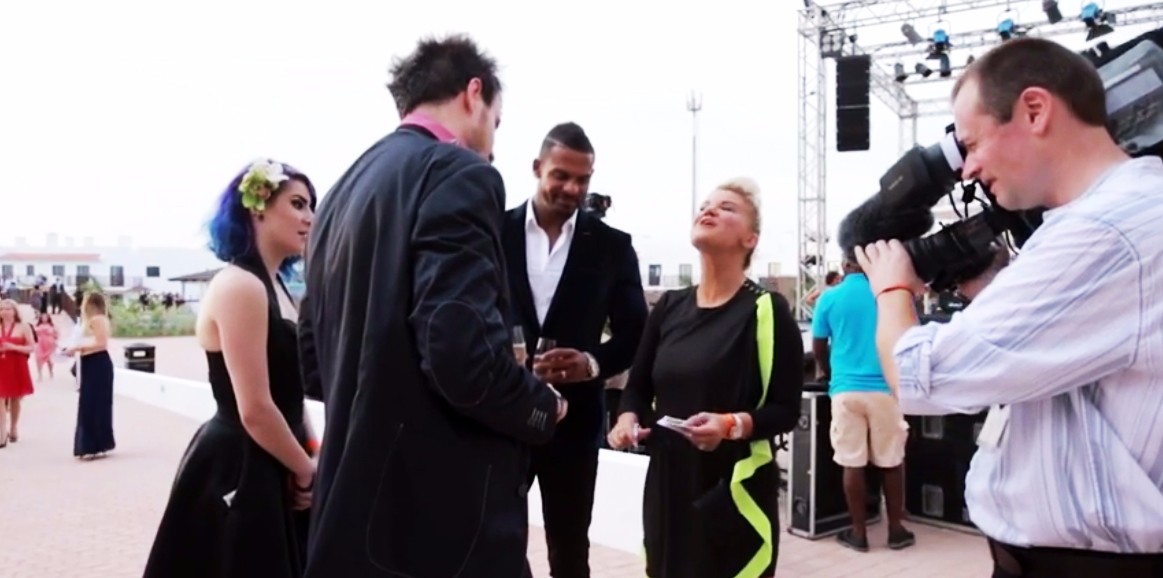 "You gotta be kidding me!"
– Kerry Katona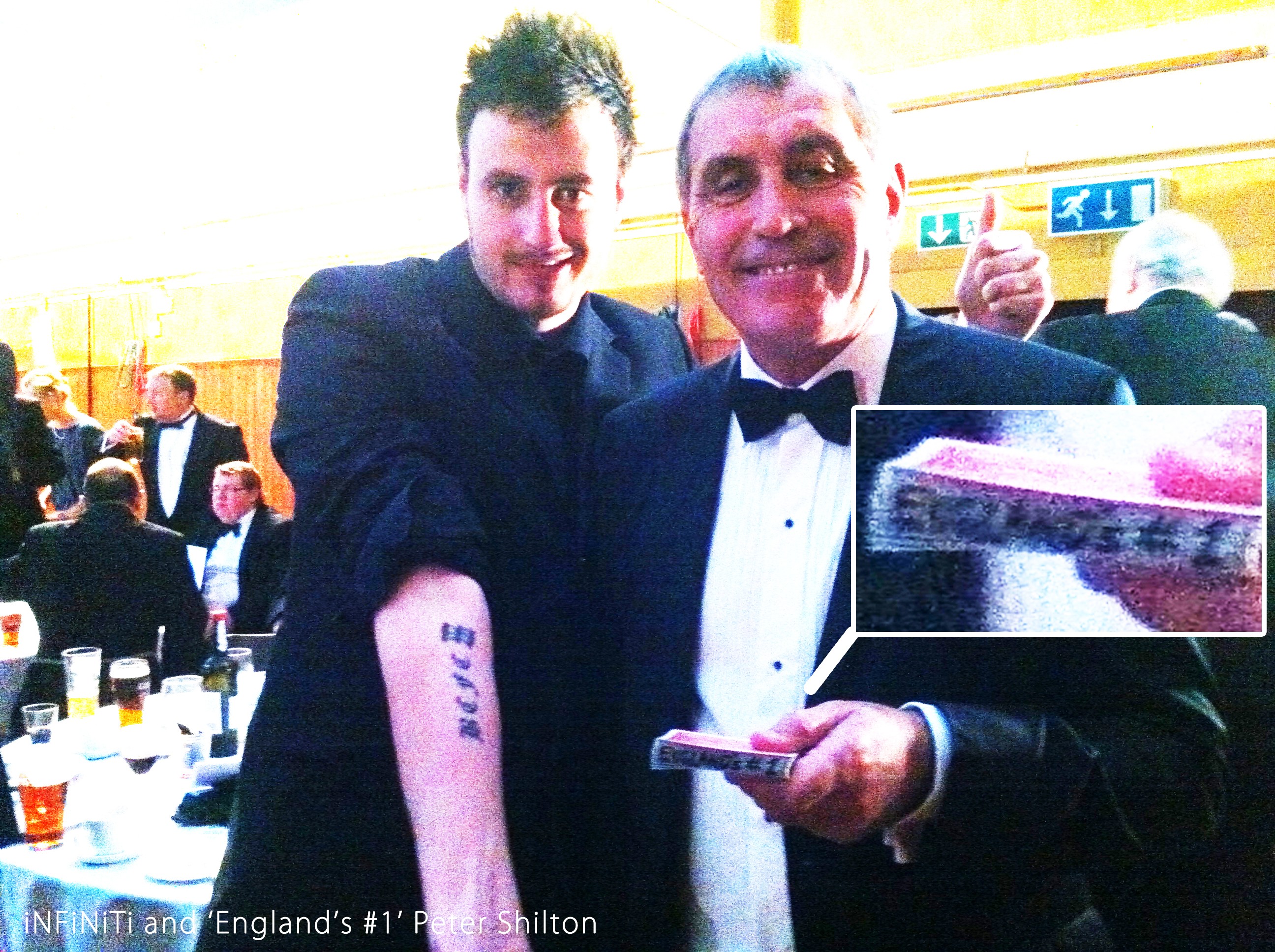 "My signed card appeared in a block of solid ice – that's some way to get an autograph!"
 – Peter Shilton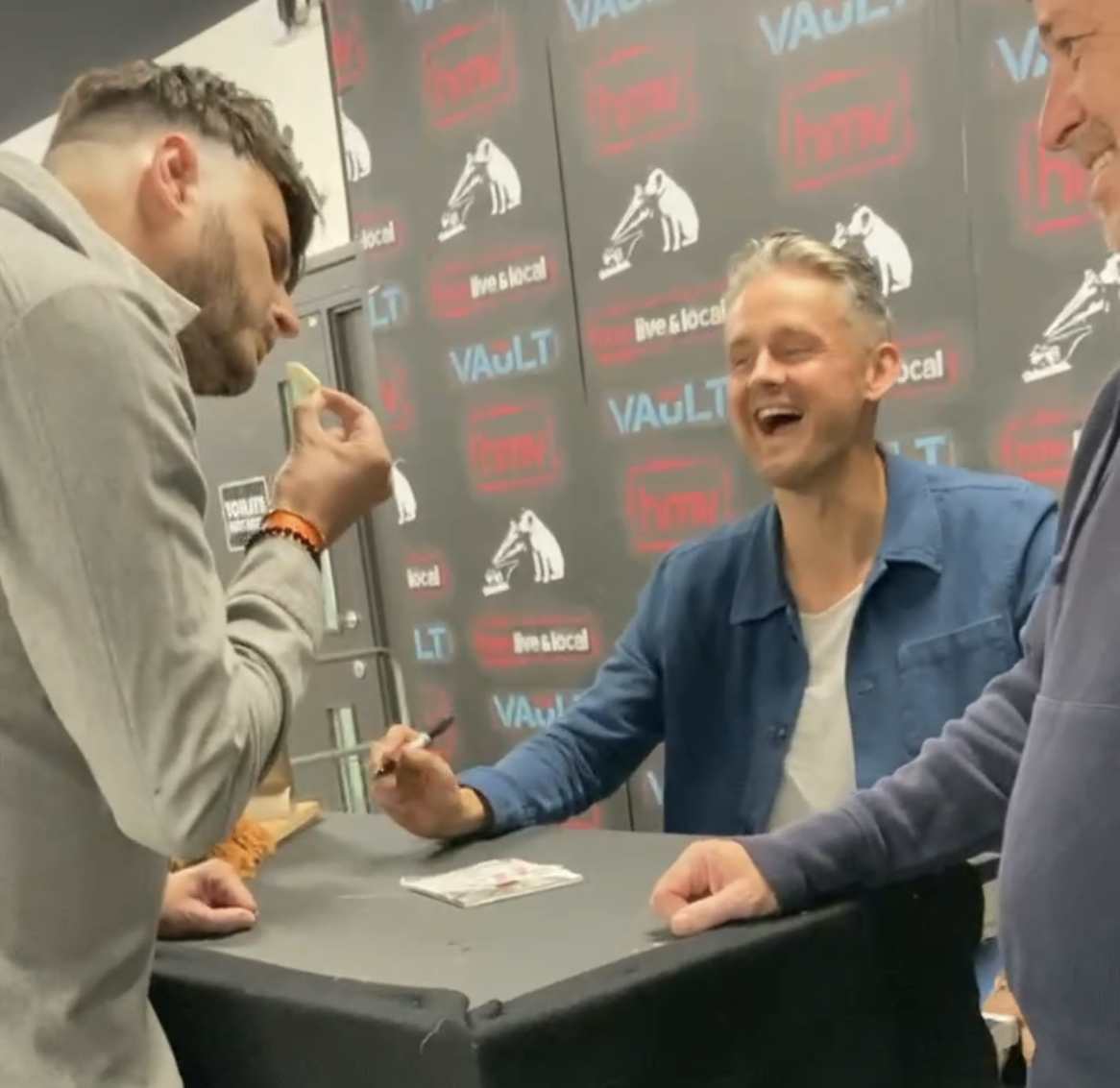 "Nice Trick" 
– Tom Chaplin, Keane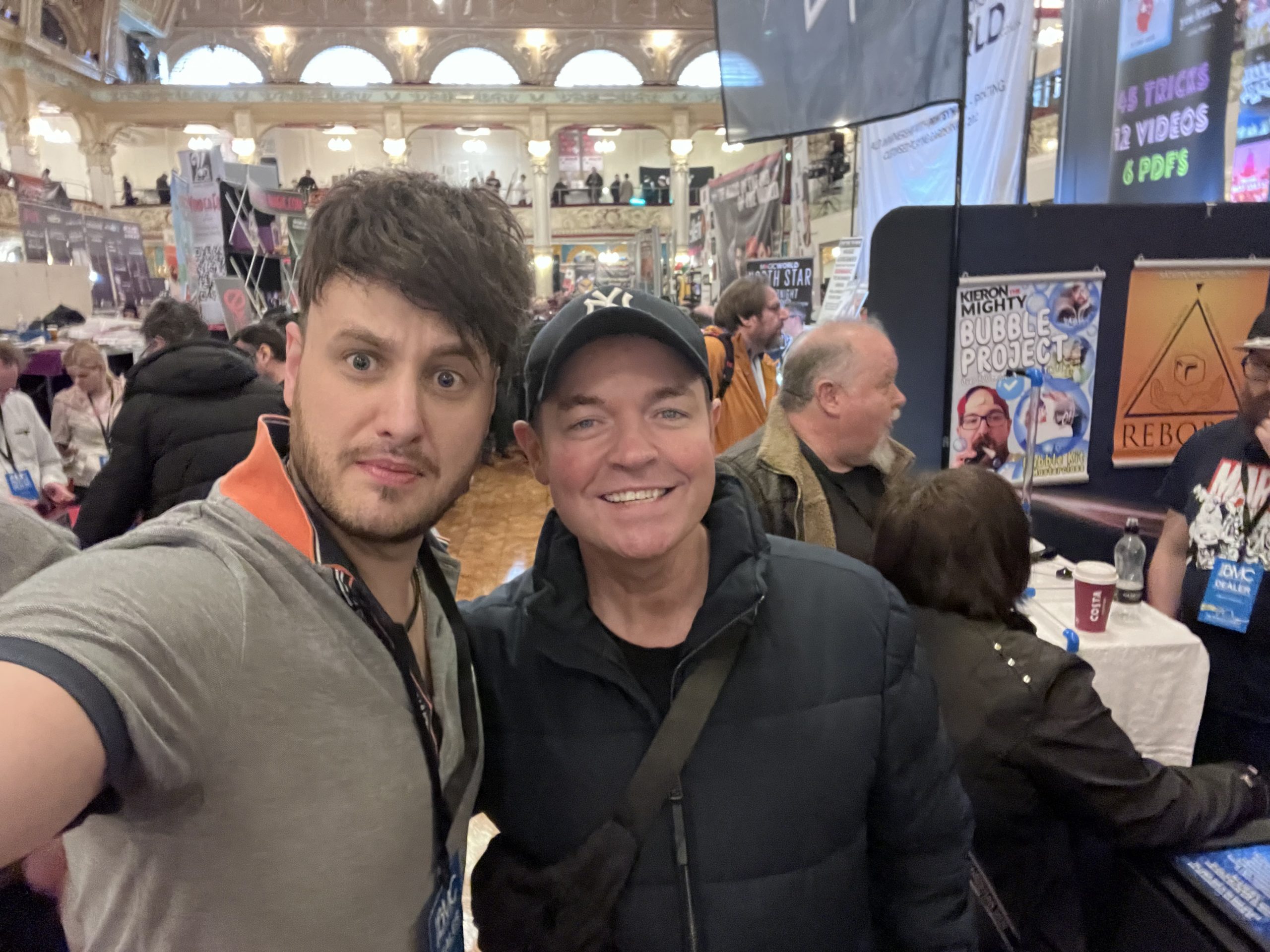 "You have a great mind for the material I love" 
– Stephen Mulhern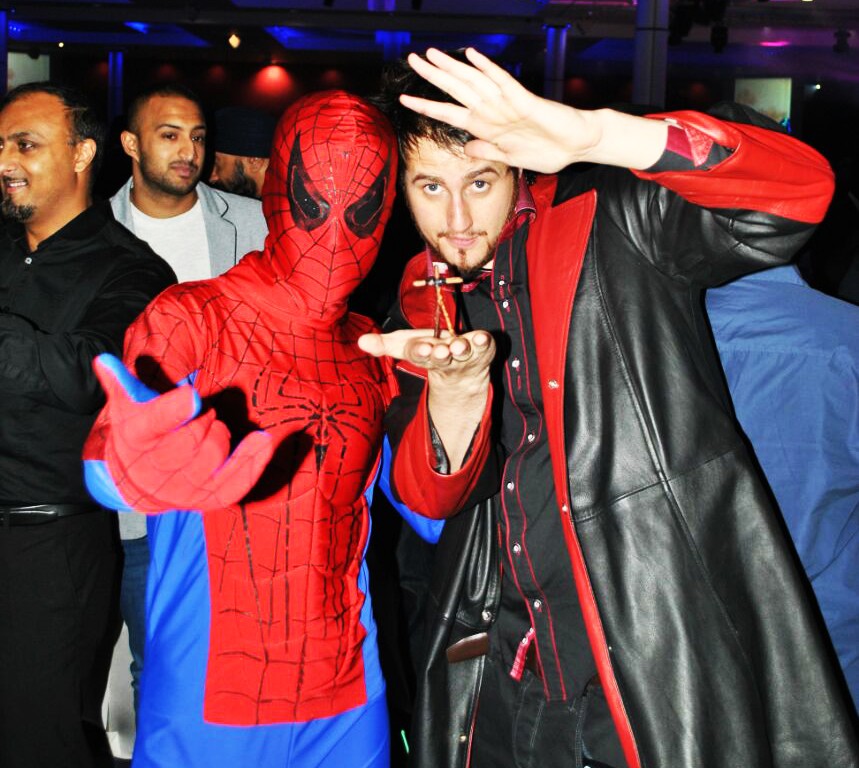 "Your super powers put mine to shame"
– Spiderman
Some recent Reviews on Google…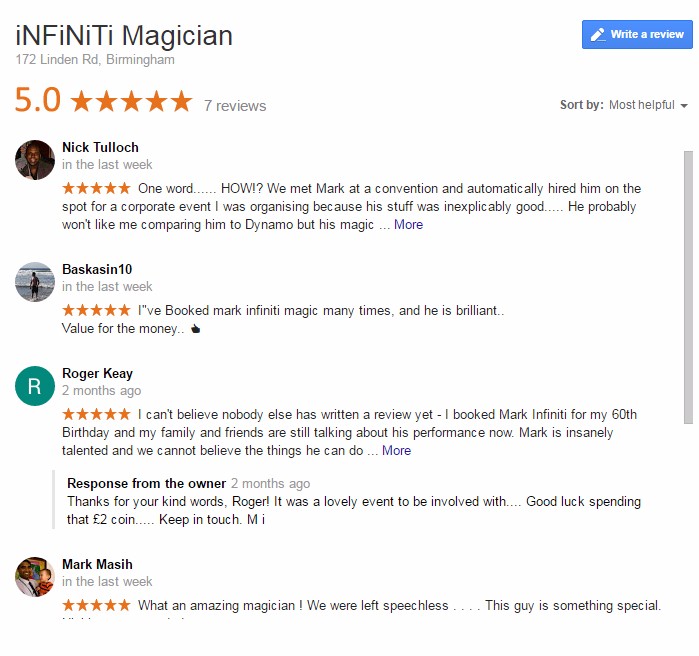 Some recent mail…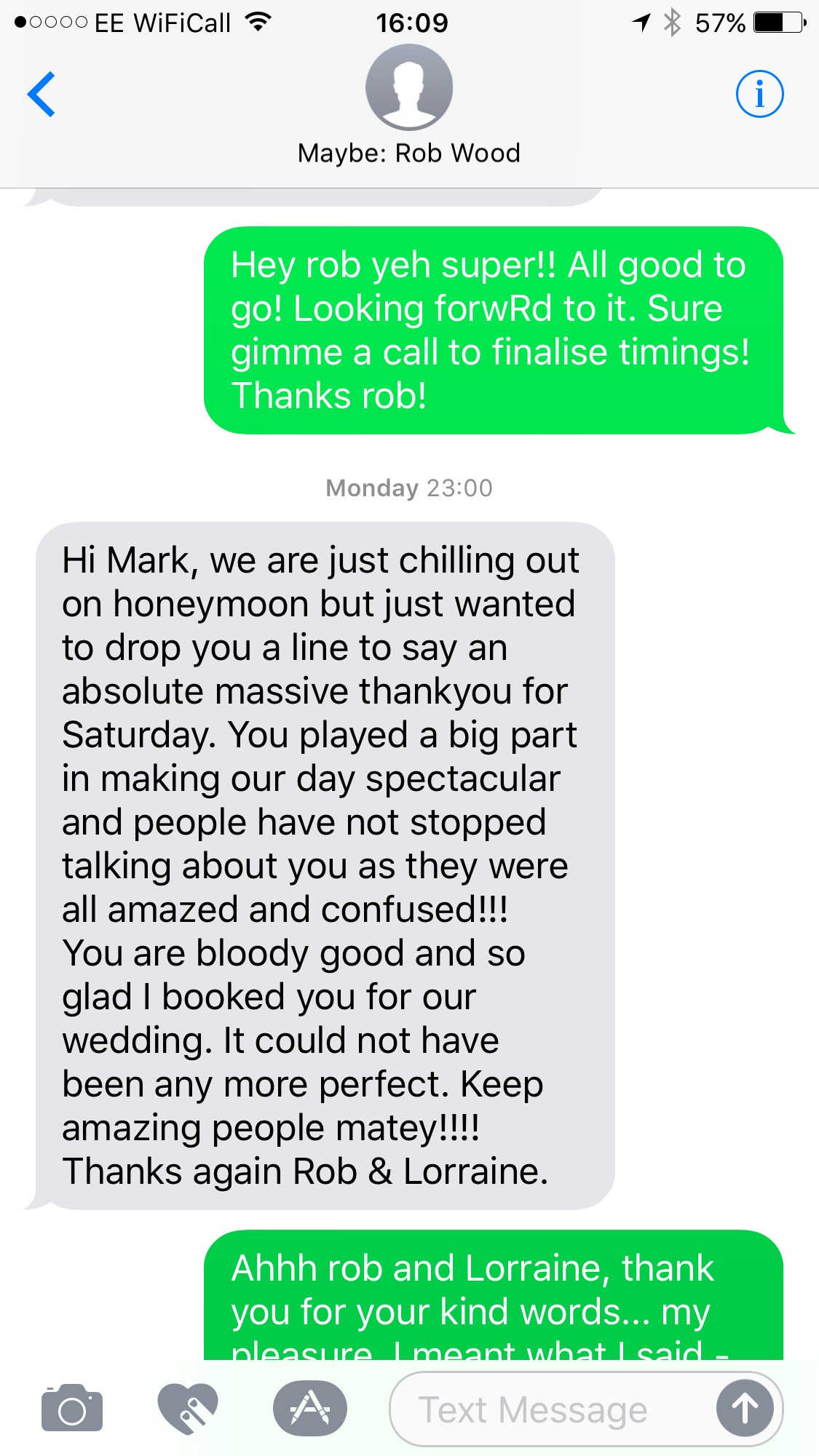 Read an amazing testimonial for iNFiNiTi from Head of HR at Barratt Homes PLC…

Read a Review of iNFiNiTi's afternoon inside an Advertising Agency…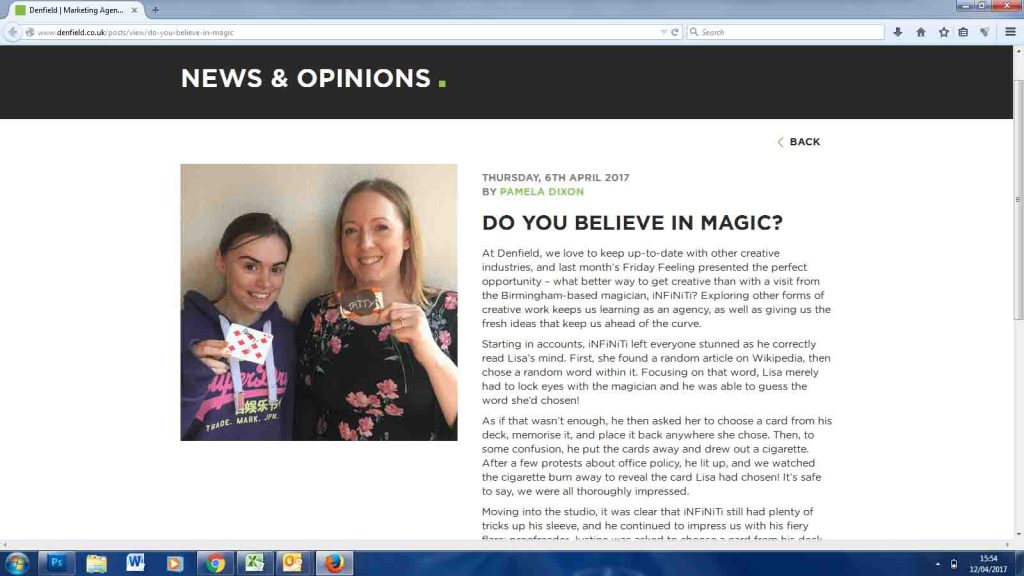 Some recent feedback from a range of clients…
Here are just a few comments taken from some of the press coverage, social networks, emails and letters that Mark has received over the past year or so as a professional magician for hire:
"Mark, THANK YOU so very much for supporting Edwards' Trust Sunrise open day & abseil yesterday.Well after everyone had spent wonderful time raising very much needed funds for this amazing charity, you were being spoken about & marveled over for your tricks, generosity & kindness! Thank you, we sure enjoyed meeting you & look forward to seeing you at more Edwards' Trust Sunrise functions in the future.Cheers!"
Katt Baker Scully, Edwards Trust, via Facebook
"Mind Blowing!! Every time i see Infiniti he puzzles me more. His tricks are amazing & some of them have to be seen to be believed. We have hired Infiniti for corporate events and tradeshows. He always attracts people over to our stand and incorporates our business into his tricks. It's money well spent every time and I can't recommend him enough."
Craig Upton, Director at Ice7Media, via LinkedIn
"Thank you very much for your time this evening….Our kids, parents and even staff loved it… Had our kids mesmerized. Thanks again and look forward to having you at future events. All at BiBsy Bananas xx"
Nabila Berry, BiBsy Bananas, via Facebook
"@infinitimagic thank you for attending our open day today. People haven't stopped talking about you. I think you have a new fan too."
Teeny Tots Nursery, via Twitter
"Mark's quite simply MAGIC! (Sorry!) I've seen Mark a couple of times and he has always impressed me not only with his skills as an illusionist but the ability to be able to make everything bespoke. He is so creative, and can fly by the seat of his pants as only a true artist could. I invited him to the Uber birthday party, to entertain whilst getting some new business leads at the same time and he was astonishing. He" turned" a sealed can of coke into real red wine. AND it was quote palatable too! Great stuff, enjoyed him immensely and would recommend him whole heartedly."
Michelle Mills-Porter, UBER groups, via LinkedIn
"The evening was a great success and Mark was very popular. He arrived on time and performed a range of tricks that were captivating and everyone was extremely impressed. He is a very talented individual only downside is that we didn't book him for long enough!"
Melanie Scrivener, Invacare, via Classique Promotions
"Mark worked his act at our MMA Academy Christmas party on Saturday, if you have not already add Mark as a friend and post this. Everyone was really wowed at the party he was really impressive with his unique brand of close up magic, illusions and humor. It really made our end of year party go of with a bang! He does this trick ( well the word trick does not do it credit) with a card and ice…well you have to see it, and you won't believe your eyes. What ever illusion he starts you think it's going one way and then it diverts and screws you mind up. If you have any events , parties, weddings, works events etc hire Mark you will be very impressed his act adds the something extra to any events. I will certainly use him again. Thanks Mark, great job!"
Paul Gannon, Gannon's Mixed Martial Arts Academy, via Facebook
"I think it's safe to say everyone was really very impressed by him – the morning after the office was buzzing with everyone talking about his tricks."
Millie, Blue Mountain, via Classique Promotions
"I just wanted to take this opportunity to thank you for your assistance with Friday's shoot. It went really well – Darren the Director was really happy and Maggi found the day to be really positive so all in all , it was a really good day and served it's purpose.I will ensure that we put a link to your website on our Discovery website under our 'With Thanks To' section.Thank you once again."
Kerry Fanneran, Filming of 'My Naked Secret', Maverick TV
"Mark worked with us at an event we exhibited at – working his magic with crowds and driving traffic to our stand. He had a great repertoire of tricks & illusions as well as a great rapport with the people visiting the exhibition. Above all Mark is great bloke as well as great magician, and I would recommend him without hesitation!"
David Hadley, Sales and Marketing Manager, CSCM
Don't take their word for it!
Click HERE for a quote.