From the Favelas of Rio de Janeiro to the bars of Budapest, Close up West Midlands Magician Mark Barber is iNFiNiTi: Illusionist, Trickster and Magic Artist the world over. According to many entertainment agencies out there, this guy is

WAY BIGGER THAN DYNAMO;

 he's 5ft 5 and iNFiNiTi is 6ft 3!
West Midlands Magician

​_________________________________________________________________________
Renowned as England's second city secret and tipped as one of the UK's most innovative and up and coming young magicians, iNFiNiTi first found magic during a trip to New York just over ten years ago. Now working not just as a West Midlands Magician but across the West Midlands, London, entire UK and Europe, his client list includes Birmingham City Football Club, The RAF,  Coca Cola, Hotel Chocolat, Royal Mail, Nestle, Heineken, Arabian Nites, UK Deaf Festival, Desperados Beer, WBA FC, Slug&Lettuce, Aldi Baby Show, The Vapr Expo, Sainsburys and The Resort Group in Cape Verde, Africa.
Offering a 15 percent discount for local gigs, West Midlands Magician iNFiNiTi has tricked his way to success among the stars, performing magic at several red carpet events including the 007:Skyfall Premiere, grand opening of the TK Maxx Flagship Store in Covent Garden and launch night of the five star Melia Dunas Beach Resort in Cape Verde (supporting artists such as Tinie Tempah and The Artful Dodger. iNFiNiTi has also featured in the Sunday Mercury and appeared as a magic consultant on TV for Discovery Channel's documentary 'My Naked Secret' with celeb Psycho-dermatologist Dr Linda Papadopoulos. He was also hand picked to work as a support act for Dynamo at corporate events.
Likened to Street Magicians Dynamo and David Blaine, iNFiNiTi's style is fast, fresh, and super-visual; creating new and impossible moments with cards, coins, keys, iPhones, fire, ice… even static energy. His close-up skills are ideal for private parties, corporate events, bars & nightclubs, exhibitions, trade shows, weddings and promotional campaigns.
Put simply, people don't forget about him. It's not the things they see him do, but the way his magic makes them feel. West Midlands Magician iNFiNiTi will destroy your mind, then, destroy your mind some more. Welcome to iNFiNiTi… no end to brilliance. Magic without limits. Making the impossible impossibly possible.
Click to Get a Quote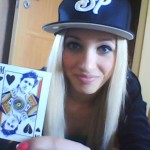 Popular Locations: Birmingham | Solihull | Wolverhampton | Coventry | Worcester | Warwickshire | Manchester | London
Popular Gigs: Close up | Wedding Magician | Table Magician | Street Magician | Corporate Magician | Trade show Magician