Make your event amazing. Stage Magician iNFiNiTI is a bit like Dynamo… Close Up, Stage, Cabaret and Parlour Magician based in Birmingham – available to hire for Wedding | Private Party and Corporate Events.
Big special events need big special performances. iNFiNiTi has been performing close up and stage magic for 10 years across Birmingham and the UK. His client list includes Coca Cola, Nestle, Royal Mail, The Resort Group, West Bromwich Albion Football Club and Sainsburys. As a Stage Magician, no audience is too big or small. He's put on small parlour / cabaret style shows (10-20 people) for golf clubs, rugby teams and birthday parties, as well as bigger stage shows for between 100 and 200 people at venues including The Great Hall Birmingham University and Chateau Impney. iNFiNiTi's style is fast, fresh and ultra visual – combining modern magic with feel good comedy. In fact, his comedy stage show has become a regular act for LUVCOMEDY audiences at the Birmingham Glee Club.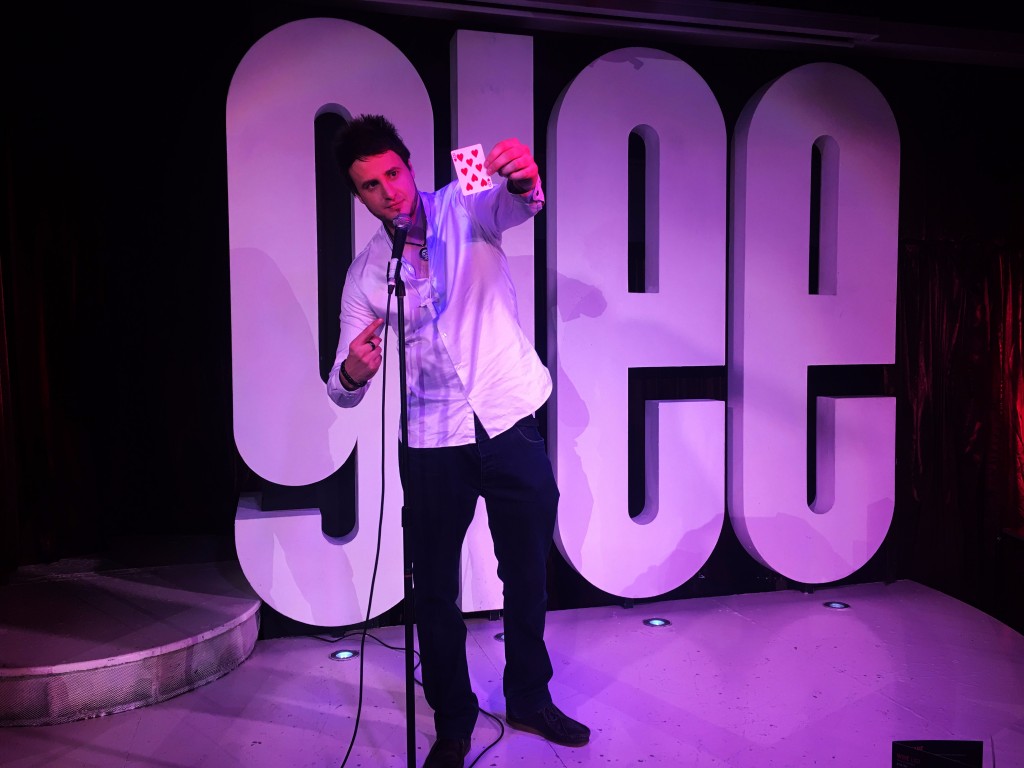 iNFiNiTi performing his comedy magic act at Birmingham's famous Glee Club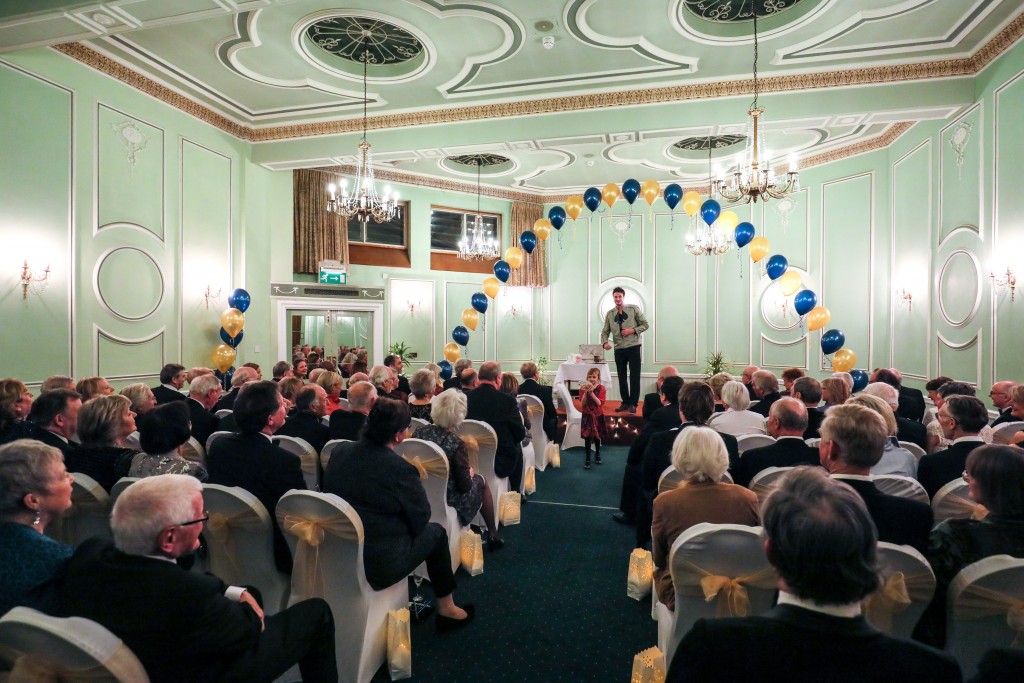 Performing on stage for Worcester Warriors Chairman OBE Cecil Duckworth and his family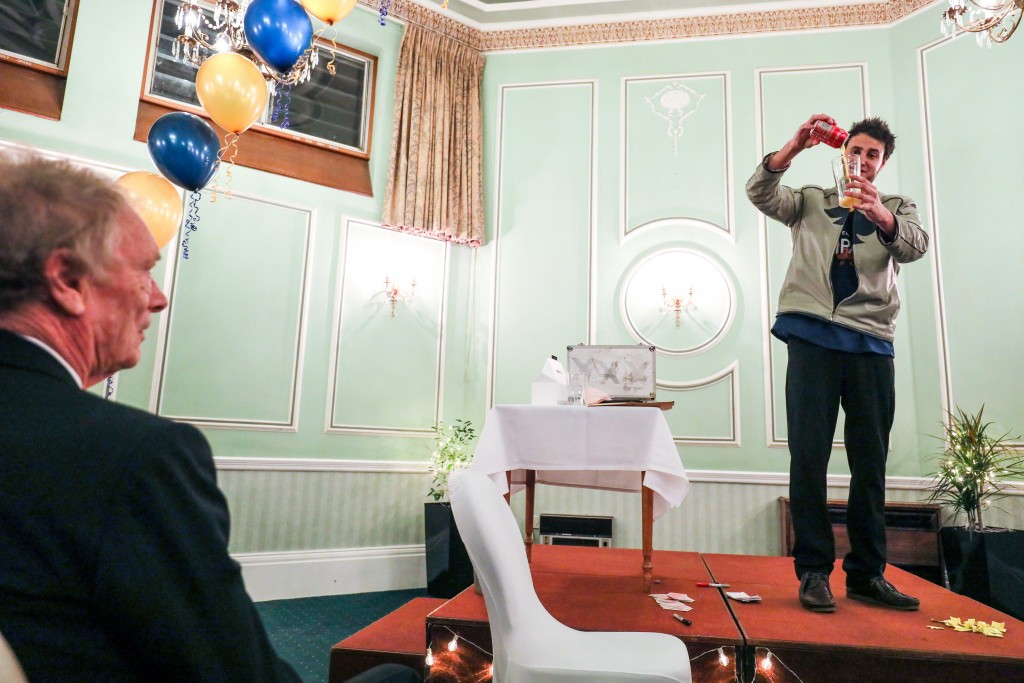 iNFiNiTi turning a can of Coke into Orange Juice on stage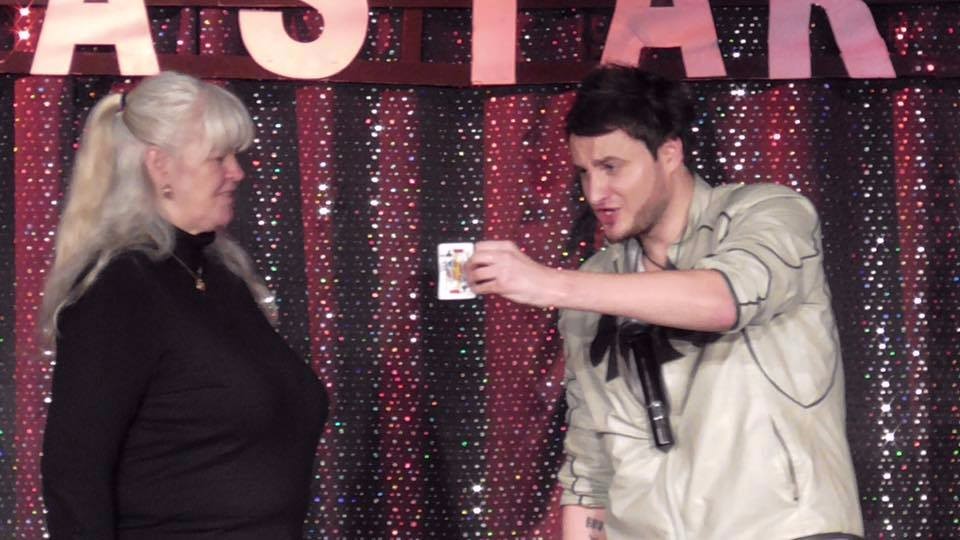 …Inviting a spectator onto stage during a performance
Each stage show is bespoke to the audience and environment iNFiNiTi is booked for. It can last 5 minutes, 20 minutes, half hour, anything up to around 45 minutes. His material is tried and tested against a range of diverse audiences, put simply, he knows how to entice and entertain a room. iNFiNiTi is not so much a grand illusionist – he doesn't cut people in half (not all the time anyway) or escape from tanks of water… this is a completely different genre and set up. iNFiNiTi entertains an audience using mind reading, mentalism, calls audience members up to pick cards, involves them in the tricks; writing things down and playing a role in the final outcome. Depending on the size of audience and room type, sound systems, screens and microphones may be required – but nothing is too much hassle – we can help sort out any requirement to make sure the event is as entertaining as possible. Usually, Stage Magician iNFiNiTi rounds his performance off with 30 minutes of close up magic around the tables – letting him involve spectators who weren't lucky enough to get called up on to stage.
Looking for a Stage Magician?
Click
HERE
 for a no obligation quote.
Watch a Video of iNFiNiTi's Tricks Here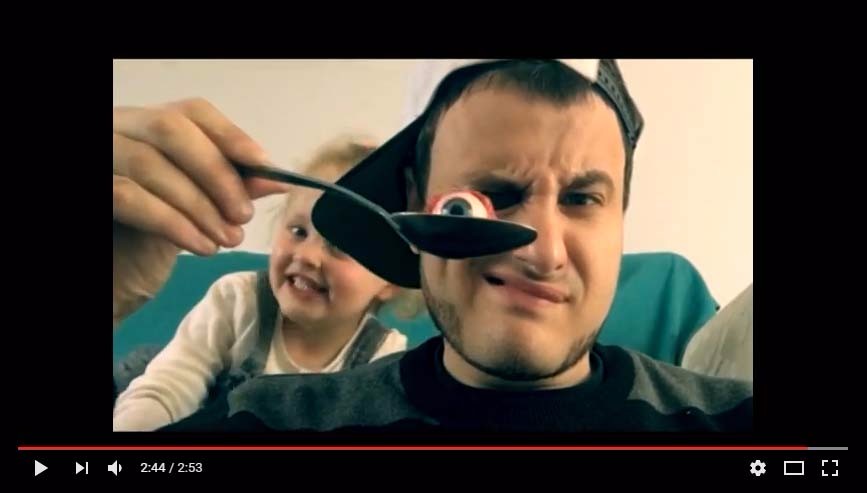 Watch iNFiNiTi's 2017 LIVE BBC Radio Interview Here